Before getting into the repairs, if you find yourself repairing through hole boards especially replacing chips and sockets, then it's worth considering a desoldering gun like the Hakko FR-301 available on Amazon USA.
I got by without one for many years by snipping parts then heating up the solder to remove the left over leg before using desoldering braid to clean up the via. However removing parts without destroying them, especially chips and header pins was an exercise in frustration. The desoldering braid would not always remove all the solder, risking via damage and I never got on well with solder suckers.
A desoldering gun makes the task so quick and easy to do I wish I'd spent the cash and bought one years ago. Obviously get a decent soldering iron first, but after that a desoldering gun just removes so much frustration.
With that said and the damage assessed it's time to start the repairs.
Battery Holder
First up, the WPC board had acid damage on the battery holder from leaking AA batteries. The holder was beyond saving and needed replacing. Fortunately the board itself didn't have any acid damage.
To avoid a repeat of this I put two dummy batteries into the new battery holder and ran wires to a separate battery compartment away from the PCBs.
The image below shows the damaged battery holder on the left and the new one soldered into place.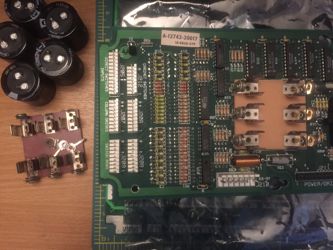 Driver Board
Just above the old battery holder you'll notice 5 large capacitors. Whilst repairing the driver board I noticed that 2 of the existing capacitors had significant bulging on their lids and a 3rd was questionable so I decided to replace all 5 whilst the board was out.
QuikChip
This task was made easier than expected after seeing a video talking about QuikChip. As the caps have a self locking tab, desoldering was tricky to do, but with a little QuikChip applied to each leg and a bit of heat the caps pulled straight out. That stuff really does remain molten for quite a while. It's the only time I've needed to use it so far, but it was worth it just for these caps.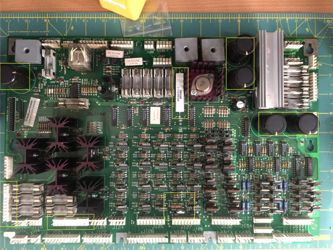 With a few fuses replaced, a new power resistor soldered into place and the regulator, transistor and other components in the Q50 area replaced, all that remained were the damaged header sockets. A few had terminals that looked quite worn, a few had scorched plastic and two had just plain melted away.
Sockets
On the subject of terminals, J115 was a mess with a molex housing welded to the header pins and melted plastic. This needed replacing, however there's a catch…
The pinball cabling uses push fit IDC sockets, which in and of itself isn't an issue, however, several of the sockets use a loop back connection, where a single wire is pushed into one pin and then looped back and pushed into a 2nd pin. I assume this is to distribute the current across multiple terminal pins halving the amount of current each pin has to handle.
As I want to use crimped connections for the replacement (7A phospher bronze terminals) this posed a bit of a problem. The best solution I could find is described in this pinside post however, as I don't have suitable coloured cable, I wanted a temporary solution.
In the end I settled on using a set of 13A rated WAGO connectors. This allows a one in, two out split to be made for 4 of the cables yet is trivial to unclip and remove at a later date. I'll eventually replace this with a less bulky, cleaner and more permanent Y splice once I have suitable sized/marked cable.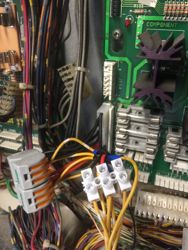 Fault Tracing
With everything I could find wrong with the power driver board repaired the next question was, what might have caused such a failure to begin with?
Looking over the schematics, Q50 the blown regulator drives Solenoid 13, which is one of the jet bumpers. Lets take a look under the hood…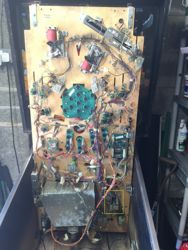 The jet bumper solenoids are in the bottom right with solenoid 13 highlighted with a yellow box. There's a handy chart of coil resistances for the various coils found in pinball machines which can be used to check whether a coil is still healthy or not. In this case it wasn't needed as the coil was shorted and needed replacing, the sleeve was also stuck fast, likely a result of the coil shorting and overheating.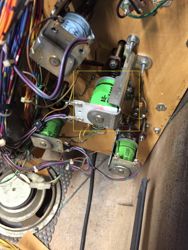 Aside from a new coil I decided to order a complete set of coil sleeves too. Although, in hindsight I should have taken each coil apart to check the coil sleeves were removable as it later turned out another coil had a sleeve stuck fast which meant a second delivery charge :(
If you're curious there's a youtube video by Jeri Ellsworth demonstrating how a pinball solenoid functions.
Whilst repairing this, I also noticed the pop bumper this coil is attached to is missing a lamp fixture inside it. I'd assumed it was just a blown lamp, but the entire fixture is missing. It looks like someone may have tried to replace a bulb and ripped the fixture clean out. A new one will need to be soldered into place under the playfield at some point in the future.
Face Switch D67
With all the above repaired, the only thing left was the problem that started this all off, replacing the face detection switch in the brides head.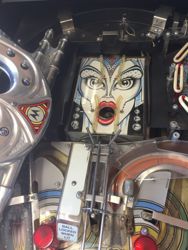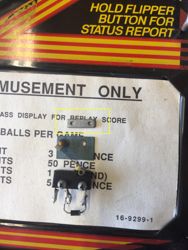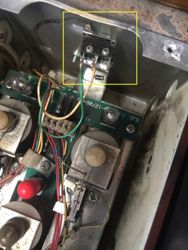 If you find yourself replacing this switch, pay attention to the 2nd image which has a tiny plate highlighted. That plate is underneath the switch mounting bracket. When you unscrew the old switch, it can fall unnoticed into the face cavity. It can be tricky to retrieve and may require lifting the playfield and removing the metal shield around the face assembly along with one of the face plates. Not that I'm speaking from experience…
Before re-attaching the face plate, it's worth powering on the machine and running through the head cycle test in the service menu a few times. As the switch needs to be angled on the bracket slighty so that it's open when the roller is within an indentation (as shown above) and closed when moving between faces.
Yes it's a vertical video, yes I've seen the PSA, yes it's hilarious, but…
Next up, the playfield.