Using an LCD monitor + computer for sheet music display along with the first version of Page Turner has turned out to be a much nicer experience than struggling to page turn manually. The monitor and need for a computer is not the most convenient pairing though. An iPad on the other hand is portable and just about the right size for showing one page of sheet music1 and then there's the touch screen for annotation. Unfortunately my Page Turner pedal, which is serial based, will not work with it.
It was time to make Page Turner Mk II, a USB device that plugs into the iPad's camera connection kit and identifies itself as a USB keyboard device. It sends a page forward or backward keypress depending on which foot pedal is pressed.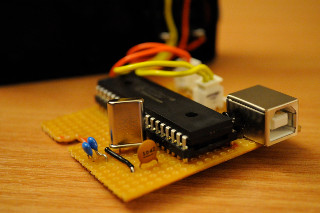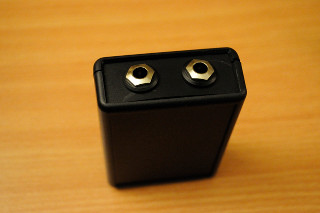 The USB port shown in the photos is used to connect a standard USB cable to the iPad via the camera connection kit, as far as the iPad is concerned this is a normal USB keyboard. The two jack sockets on the opposite side of the box accept 3/4" foot pedal jacks to allowing both forward and reverse page turns.
Holding the "forward" pedal down and plugging the device into a a PC will cause the bootloader to enter flashing mode, allowing new firmware to be downloaded to the device.
Internally the device makes use of a PIC 18F4550 which includes a USB module and corresponding stack. This avoids interfacing with a separate FTDI chip. A lower pin count PIC could have been used, but I had the 18F4550 spare at the time. Hardware wise, the device is pretty simple with just a few decoupling capacitors, a crystal to drive the PIC and interface connections for the two switches plus USB socket.
Since making this, the AirTurn bluetooth model is now available within the EU. I had planned to buy one but my DIY solution is working great. I am a little tempted to make Page Turner Mk III with bluetooth though.
---
It's actually just a tiny bit smaller than would be idea but cropping out the margins resolves the problem. ↩︎