For a change the skies were relatively clear on Monday night so I took the opportunity to take a few images. Unfortunately I made a few mistakes during setup that resulted in woeful polar alignment giving a 5 second max exposure time before star trailing became apparent, compared to the usual 5+ minutes I've acheived with previous drift aligning… With fog rolling in I had little time to correct it and instead made do.
Despite using the fastest exposure time my ccd camera was capable of 0.001s, the moon was still over exposed. Really a filter will be needed to reduce the light gathered by the scope for future attempts. Still with a bit of post processing I've managed to isolate the overexposure to a smaller area.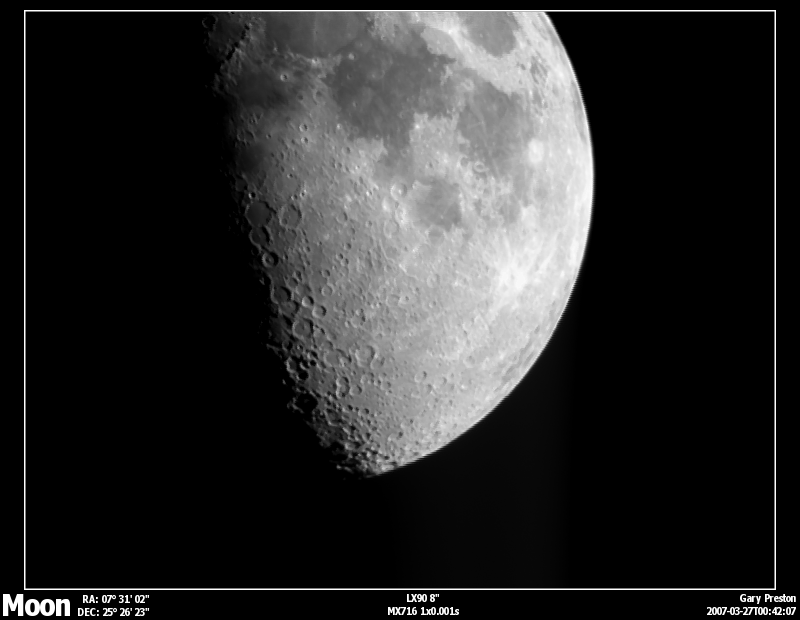 | Setting | Value |
| --- | --- |
| Exposure Time | 1 x 0.001s |
| Date | 2007-03-27 00:42:07 UTC |
| CCD | Starlight XPress MX716 |
| Scope | LX90 8" |
| Dark Frames | 2x0.001s averaged |
The second image was taken through the first wave of fog and suffered for it, especially with a 1/2 moon and 5 second exposure times. If I'd noticed the fog coming in, I'd have packed up before the corrector plate became saturated, the dew heater didn't stand a chance.
Still, you can just about make out the spiral arms of M51 and the companion galaxy above as well as the effects of the moon and fog despite post processing attempts to clean it up. I plan to re-image this pair of galaxies on a fogless night with more suitable exposure times to really bring out the detail.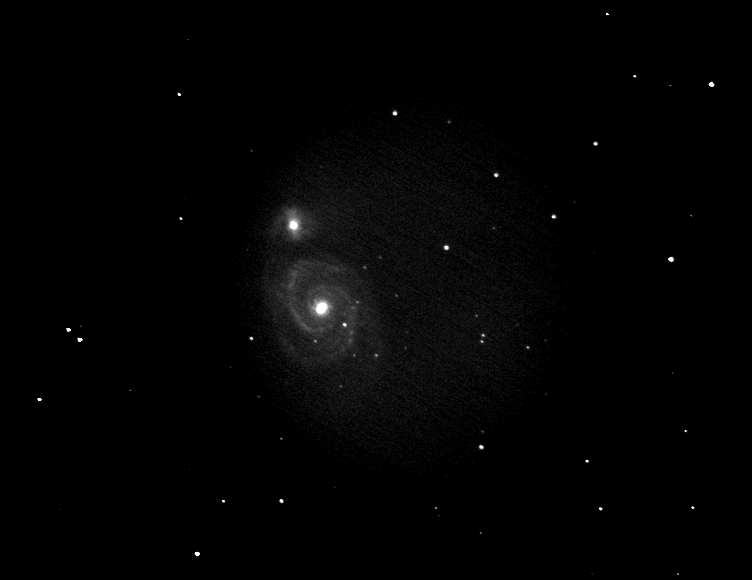 | Setting | Value |
| --- | --- |
| Exposure Time | 20 x 5s aligned and stacked |
| Date | 2007-03-27 01:26:36 UTC |
| CCD | Starlight XPress MX716 |
| Scope | LX90 8" |
| Dark Frames | 1x5s |
Tuesday night started out promising clear skies but again fog rolled in early. Knowing the nights imaging would be short, I decided against setting up for photography and instead spent the time collimating the scope to get the mirrors aligned correctly, which after allowing 90 minutes cooldown didn't leave all that long.
Seeing was only good enough to collimate with a 12mm eyepiece. I felt it improved views of Saturn and the moon considerably though, unless the placebo effect was at work. I'm sure given a night with better seeing allowing a 6mm eyepiece to be used, I could improve on the collimating further, which I'm hoping will improve the problems I've been having achieving a good focus whilst imaging.