Schwassmann-Wachmann 3 otherwise known as Comet 73P is on perhaps its final voyage around the sun. A recent Hubble image shows the disintegration quite clearly: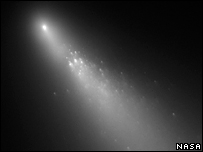 With a clear night last Monday, I took the opportunity to take a photograph of the comet. Yes I know, its not quite up to Hubble standards. Actually, it's probably on a par with hubble, prior to STS-61 fixing the mirror anyway ;)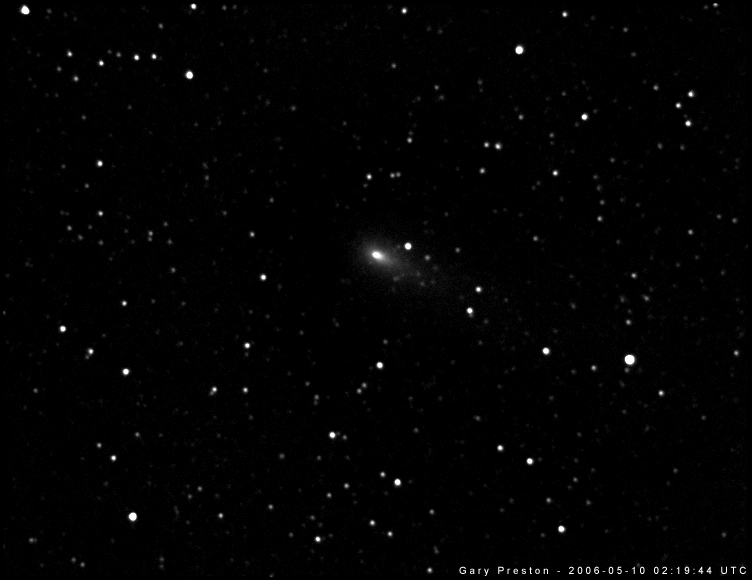 Considering how little experience I have with imaging, I'm quite happy with how this image turned out. I'm sure someone with more experience at image reduction could improve on this.
In hindsight, I should have taken a lot more exposures for stacking and perhaps used a longer exposures time to help cut down on light pollution.
Image details:-
Exposure Time: 5 x 1.0s stacked
Date: 2006-05-10 02:19:44 UTC
CCD: Starlight XPress MX716
Scope: LX90 8"
Dark Frames: 5 x 1s median combined
M57
I also managed to capture an image of M57. 10x10s exposures stacked with 4 median combined dark frames.
Comparing the image to my star charts, I've accounted for most of the brighter and dimmer stars but there's one star that shows quite brightly that isn't listed on my star chart, if anyone knows what it is please let me know.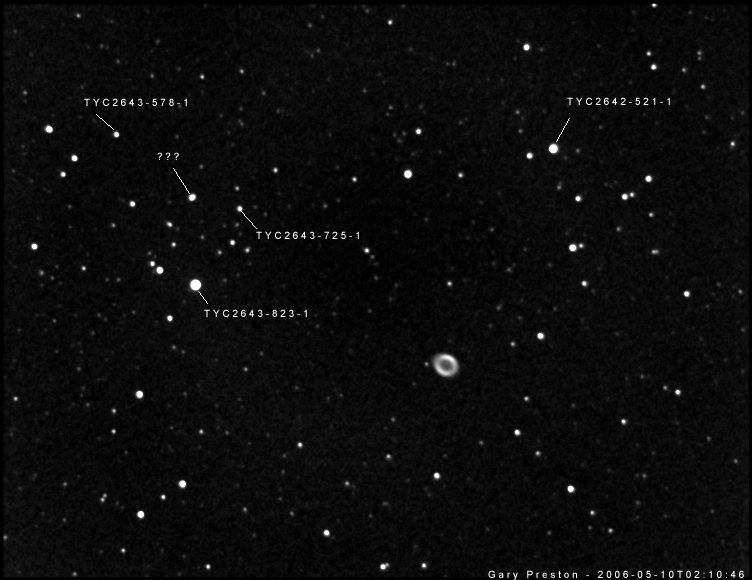 The biggest problem I'm currently facing is accurate focus. I'm probably going to invest in a zero image shift microfocuser to help improve on that. I also think my scope's collimation is off, something to double check next time I get a clear sky.
Hopefully with more practice I'll get a little closer to getting the most out of the scope. In the hands of an experienced user, the LX90 and MX716 are capable of much much better images.