Hardware is fun, there's something about knowing how everything works under the hood even if you don't really need to know.
Enter the XGameStation
The XGS Micro Edition's graphics hardware was inspired by retro designs such as the Atari 2600, Atari 800, and Apple II to give the system the most flexibility possible while at the same time keeping the hardware complexity to a minimum so users can understand the system. Therefore, the graphics are generated via asoftware / hardware combination without a dedicated frame buffer or sprite system.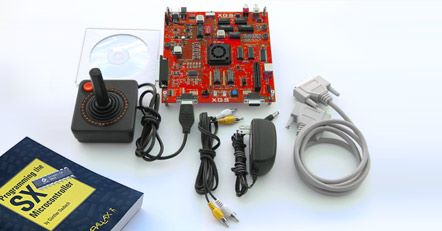 It may not be as powerful as the Xbox360, PS3 or even the original XBox but power and in turn complexity can get in the way when it comes to learning about hardware. That said, looking at the specs, the XGS is no lightweight, with more power than the original NES and SNES.


The games are not ground breaking, although I do remember how hard I tried as a kid to make similar games :) There's something about tinkering around with hardware, I enjoy it, it's geeky I know but what can you do :/ Being able to program the XGS is only part of the reason for buying it, after all I can code more advanced games for the PC with much less hassle. However, having the hardware to hack and all the documentation explaining how everything works is the first step to building your own custom console, even if it ends up as tennis for two.
The only problem I can see is that the tool chain is for windows only. I'm sure it won't be long before a linux toolchain is created by the community though and until then there's wine or dual booting. (Update: No sooner had I posted this someone pointed me to a linux IDE and uploader1)
Once everything is up and running, it would really be interesting to try a Retro GID (Game In a Day) for the XGS. Perhaps even a retro GID split over two GIDs, one building a simple console and the second programming it.
Now begins the waiting… :(